Pepper and Honey live on stage in April
Pepper and Honey is back on tour! Written by Kristina Gavran, directed by Tilly Branson and performed by Tina Hofman, this play tells the story of a granddaughter and her grandma: the young Ana settling in England, and the old Ana calling her to return home to a Croatian island. The story is told through a poignant metaphor of baking paprenjaci (traditional Croatian biscuits), which are supposed to bring your loved ones home.  
You can see Pepper and Honey live on Friday 28th April in Farnham Maltings, Surrey and on Sunday 30th April at the Greenwich Theatre, London. 
Online book launch of Mothering Performance: Maternal Action
You are invited to the launch of Mothering Performance: Maternal Action on 29th March at 6pm on Zoom. Tickets are free but must be booked in advance at Mothering Performance: Maternal Action Tickets, Wed 29 Mar 2023 at 18:00 | Eventbrite.  
Across twenty chapters, international contributors extend the concept of performance and connect it to mothering as action, and as political and personal production. An open access version is available at Mothering Performance | Maternal Action | (taylorfrancis.com). 
Kristina's own contribution includes a chapter titled 'Dramaturgies of Support and Interruption in the Process of Wonderwoman: The Naked Truth' by Notnow Collective.
Novel In Between produced by Croatian National Radio
Kristina's novel In Between (Između) is being produced as an audio-novel in five episodes by Croatian National Radio. This novel is about the migrant experience of a young married couple from Zagreb in the English industrial city of Birmingham from 2011 to 2022.  
You can listen to the novel on Apple podcast and Google podcast.  
Book launch of Kristina's latest novel In Between in Croatia
Kristina's latest novel In Between (Između) is published in Croatia by Disput. The book launch is on 27th October 2022 in the library Bogdan Ogrizovic in Zagreb. The novel is presented by editor Josip Panduric, guest speakers Lovro Krsnik and Tina Hofman, and the author.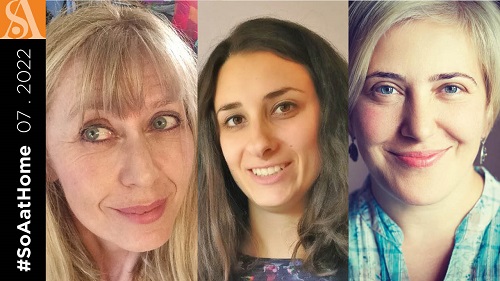 Kristina Gavran on a panel for the Society of Authors
SoA @ Home: Industry Insider – Letting Go – Why Do We Keep Telling the Same Stories Over and Over Again? 
Tue 12 Jul 2022 to Tue 12 Jul 2022 
This session will explore why we become shackled to particular stories. Whether it is an autobiographical story or a piece of pure fiction, why do we try, over and over again, to make it work? Is it because we feel it is 'the one' that will bring success, or is such writing self-therapy? Is it better to let go and move on? 
Cat Weatherill invites author coach and energy healer Dr Gulara Vincent and award-winning Croatian author Dr Kristina Gavran to suggest ways forward.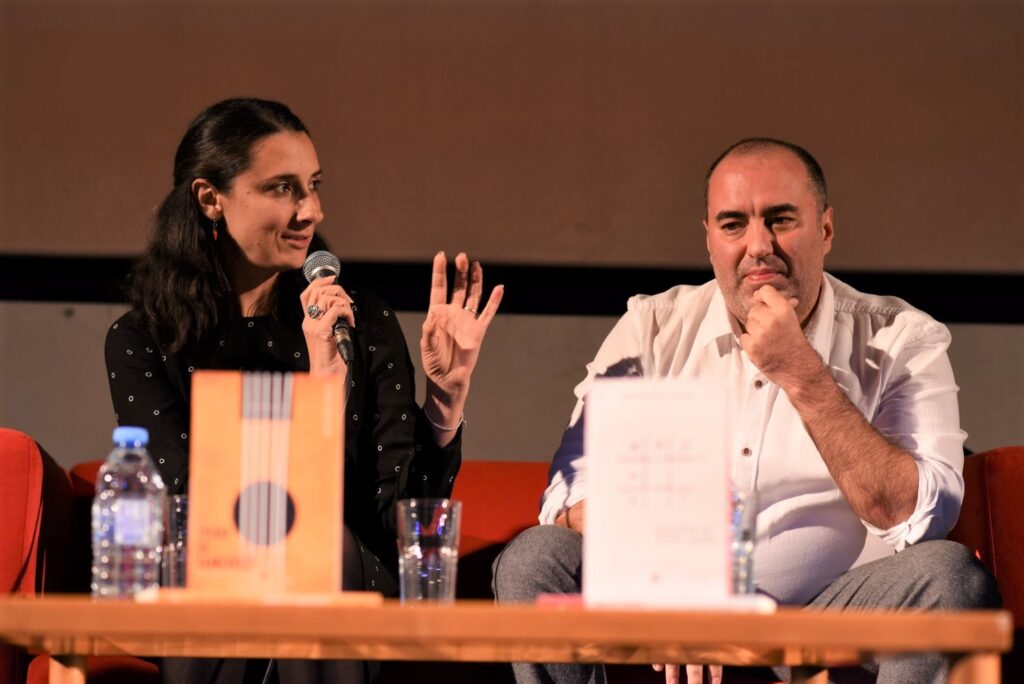 Kristina presents her novel The Palisander Guitar at the BookStar Festival Skopje 2022 by Antolog Publishing House: Brave New Wor(l)ds.
From 3rd to 5th October Kristina was a guest at the BookStar Festival in Skopje, Macedonia. The festival is focused on European literature and writers. Kristina talked about her book The Palisander Guitar, translated into the Macedonian language by Vladimir Jankovski and published by Antolog in 2021. Kristina signed books and met her Macedonian readers, and she did a storytelling workshop with college students in Skopje.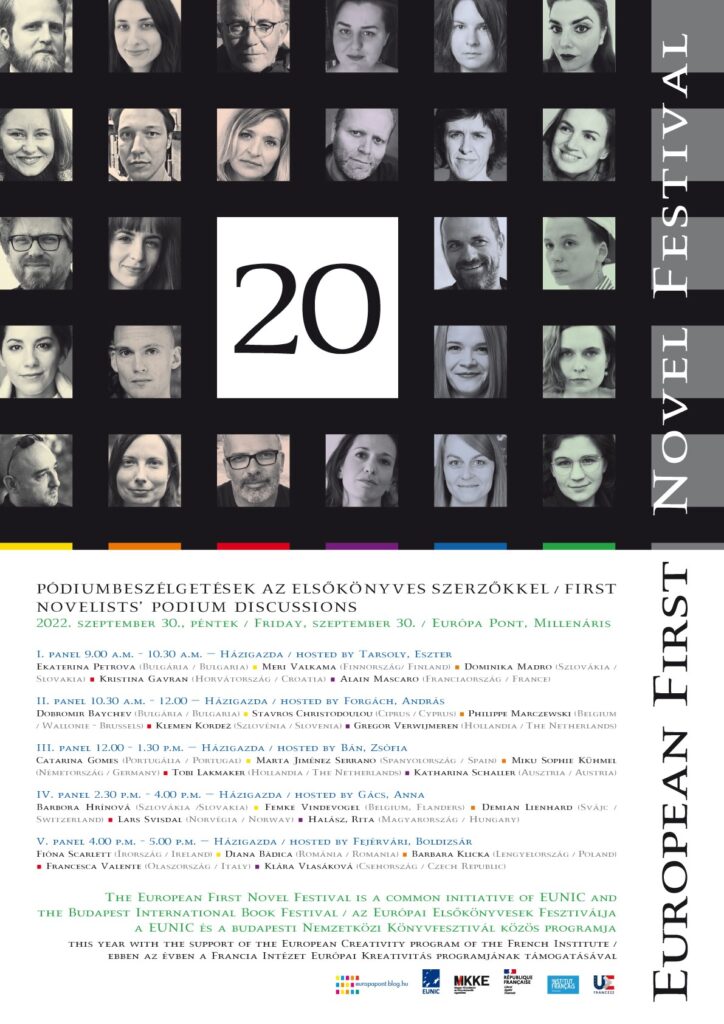 Guest at the European First Novel Festival in Budapest
Kristina was one of twenty writers from all over Europe invited to the European First Novel Festival in Budapest, Hungary. The festival is a common initiative of EUNIC and the Budapest International Book Festival and it ran from 28th September to 2nd October. It is a chance for writers and their publishers to communicate and exchange experiences, providing an opportunity for new translations and publications. Kristina presented her first novel, The Palisander Guitar, first published in Croatia by Disput and later translated into French, Macedonian and Bulgarian.  
As part of her Budapest trip, Kristina also visited HOŠIG (a Croatian school in Budapest), where she met students and talked about her collection of short stories Rain in India, Summer in Berlin, her work in theatre and her writing career.   
Kristina Gavran gained her doctorate from Loughborough University.
Today was a special celebration as Kristina was awarded her doctorate at the graduation ceremony at Loughborough University. Her research was supervised by Prof Mike Wilson, Dr Lyndsey Bakewell and Dr Antonia Liguori. Earlier in the year, she defended her thesis, 'True-Life Storytelling in the UK and the Life-Expert Performer'.  
Experience BOSA at Moseley Road Baths 12th to 16th July.
BOSA (barefoot) is an immersive audio experience created by writer Kristina Gavran, artist Tina Hofman, designer Katarina Radeva, composer Jovana Backovic and the incredible sound magicians Kinicho, who created spatial, immersive sound experience. This is an audio storytelling piece, site-specific to Moseley Baths (an old Edwardian swimming pool, empty of course).  
As part of the Birmingham Commonwealth Games, you can experience BOSA 12-16th July. Places are limited (as we use cool gadgets), so book your tickets. bit.ly/BookBosa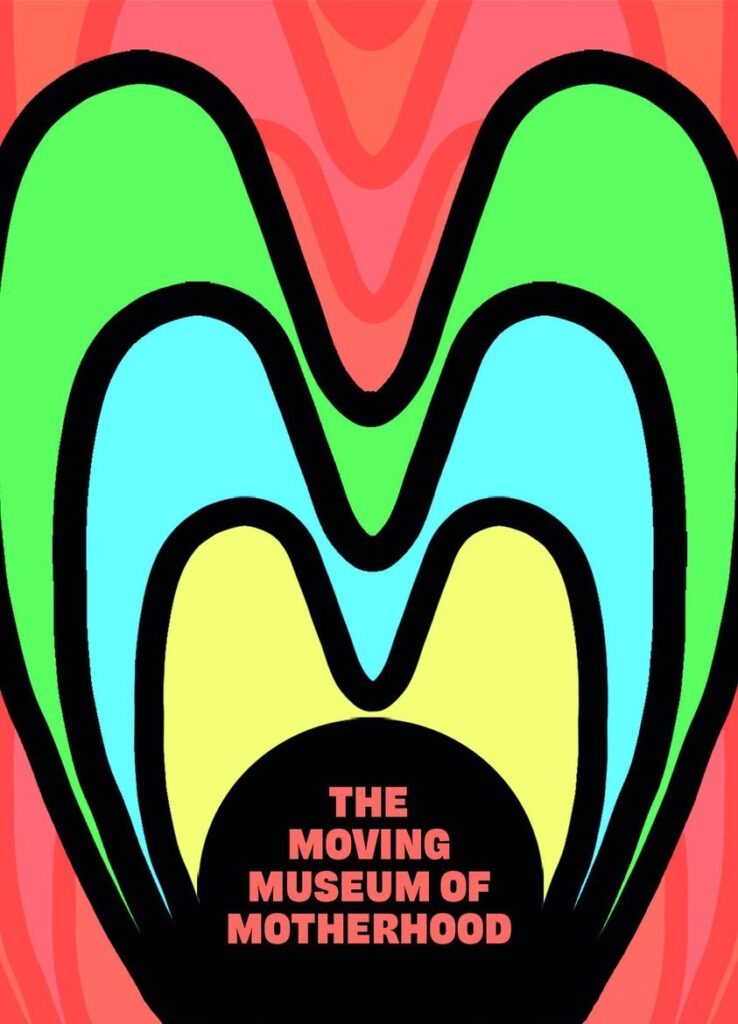 Showcase of the Moving Museum of Motherhood and the
brand new
theatre play 'The Parachute' inspired by the mothers
After eight weeks of creative workshops that included devising, storytelling, creative writing and fun theatre games, Moving Museum of Motherhood has it's showcase at Watford Palace Theatre on 7th May 2022. It was an incredible journey to work with the local community of mothers from all walks of life and to give them a spotlight on the main stage. Director Ema Gersch and writer Kristina Gavran led the workshops. The showcase included a brand new play 'The Parachute' directed by Ema and written by Kristina, specially for this project and inspired by the mothers who shared their stories.  
The Palisander Guitar published in French.
The Palisander Guitar is translated into French by Chloé Billon and published by Bleu et Jaune. The book is also available on Amazon.  
Kristina Gavran received the Ranko Marinkovic award from Vecernji list for her short story 'Signature' (Potpis)
Eight hundred and seventy-six stories were submitted to the 55th Ranko Marinković contest for the best short story as judged by Večernji list. 54 shortlisted stories were published, one each Saturday, in Obzor magazine. The jury for the selection of the best short story of the 55th competition was chaired by literary theorist Helena Sablić Tomić and included selector Tomislav Sabljak, publisher Seid Serdarević, literary critic Denis Derk and the editor of Culture in Večernji list Milena Zajović. The judging committee unanimously awarded first place to Kristina Gavran's story "Signature", second place to Mario Brkljačić for "The Island", and third place to Marko Gregor for "Our second, older child".